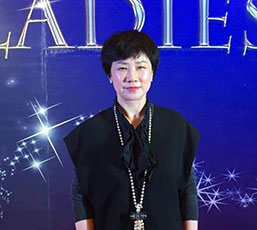 Chairman 赵玉秀
Yuxiu Zhao, female, Han, Shou County, Anhui people, nonpartisan, start to work in August 1981, bachelor's degree, Cheung Kong Executive MBA, senior economist. The current Standing Committee of the Tenth CPPCC Anhui Province, Vice chairman of Anhui Federation of industry and Commerce, Vice president of the Anhui provincial council, Vice president of the world outstanding Chinese Entrepreneurs Association, Vice president of Women Entrepreneurs Association of Anhui Province, Anhui Hengxin (Group) Company chairman.

Yuxiu Zhao was awarded by the United Nations Development Fund for Women, Chinese Women and Children Development Center as the first "Outstanding female personal achievement award", was named "International Genesis Talent" celebrities Malaysian International Exchange Center, won the "The third national excellent socialist builders", " Chinese honset entrepreneurs", " National building decoration industry outstanding entrepreneurs ", " Pacesetters ", " Safe and civilized management work advanced individual ", " female model enterprise in Anhui Province ", " new merchants leaders ", "Outstanding female private entrepreneurs in Anhui Province", "China 100 brand women", "National glory advanced award" and other honorary titles.

Through the provincial organizations such brilliance and individual donors have to build three "Glory School" ; invested 1 million RMB to establish "Anhui University Education Foundation Hengxin Scholarship"; Sichuan earthquake affecting the whole nation, in the first time take the initiative to contact the Red Cross donations, donate more than 400 thousand RMB. Over the years accumulated donations amounted to 5 million RMB.